The 81st (2021 Spring) China Motorcycle Parts Fair
Editor:Li Updated date:2021-05-06 18:00:00 Source:retrospective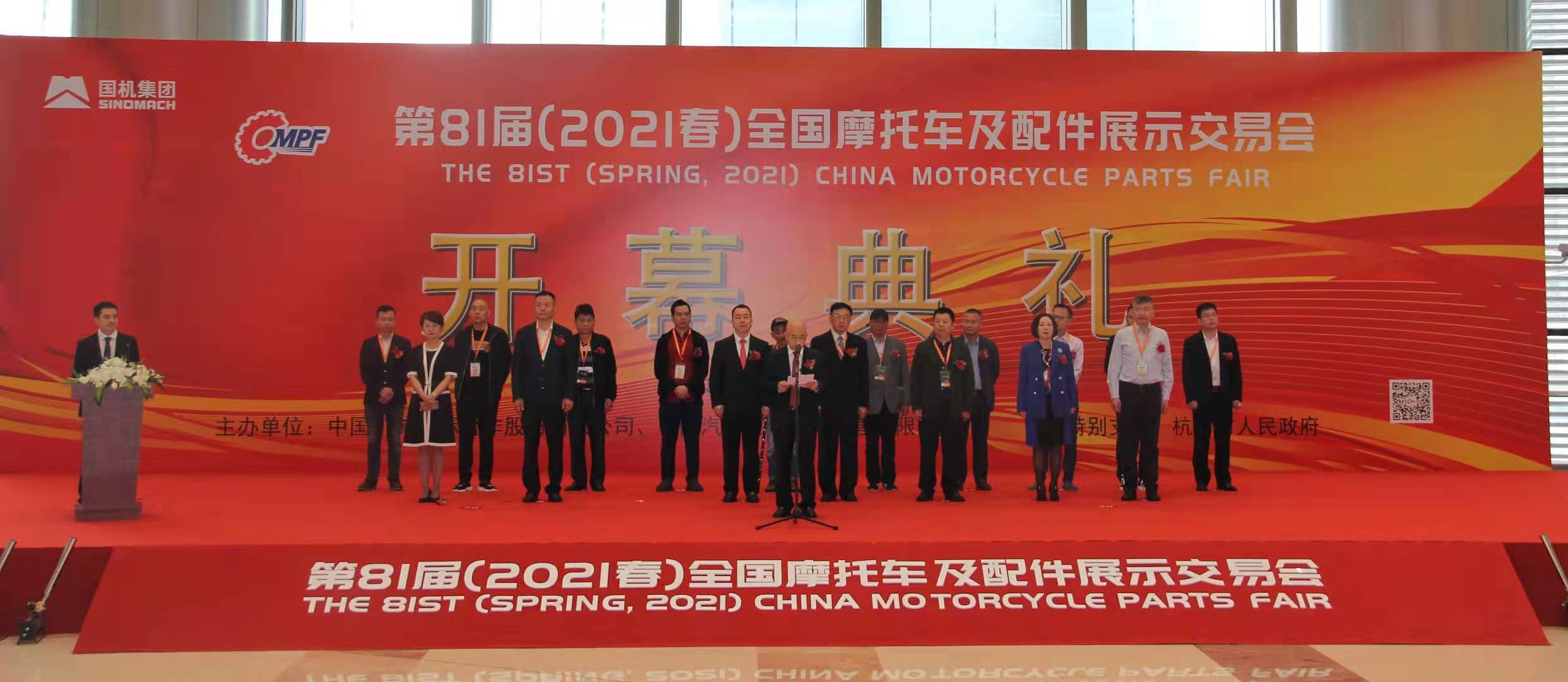 Hosted by China National Automotive Industry Parts Sales Co., Ltd., the 81st (2021 Spring) China Motorcycle Parts Fair was held from April 28th to 30th ,2021 at Hangzhou International Expo Center. Mr.Wang Duyang, president of China National Automotive Industry Parts Sales Co., Ltd., attended the opening ceremony and delivered speech. Other relevant leaders and some representatives of the motorcycle industry were also invited to attend the opening ceremony.

Established in 1981, China Motorcycle Parts Fair which is held in Spring and Autumn separately has a history of 40 years old. The exhibits not only cover all the motorcycle parts, but also include tires, lubricant, vehicle accessories, related machinery manufacture equipment, technological equipment, new technology, new materials, maintenance equipment and protective tools etc. After years of accumulation, China Motorcycle Parts Fair has developed into a world-renowned brand exhibition, deeply trusted and favored by domestic and foreign buyers.

China Motorcycle Parts Fair, serving nearly 5 million domestic and foreign industry colleagues, focuses on the high-quality development of motorcycle parts industry in China and attach importance to strategy of product globalization the whole time. Relying on the its advantages, China Motorcycle Parts Fair actively leads exhibitors to explore the international market, broaden the sales channels of their products, and expand their publicity through domestic and foreign media, exhibitions and business associations. After 40 years of innovation and development, China Motorcycle Parts Fair has transformed into a communication platform with great potential and rising value for the global motorcycle parts industry.

With the domestic epidemic being controlled effectively, the exhibition industry also ushers in rapid development. All industries are speeding up their pace of development and actively exploring in the post-epidemic era. Enterprises engaged in producing motorcycle parts have always been paying attention to exchanges and cooperation. Faced with the new situation and pattern, we are certain that new opportunity will be brought to the 81st China Motorcycle Parts Fair in the case that he importance of professional exhibition has been greatly stressed.

The 3B, 3C and 3D exhibition halls of Hangzhou International Expo Center were opened up, with an exhibition area of 40,000 square meters and nearly 1,000 exhibiting companies participating in. Enterprises engaged in producing motorcycle parts from all over the country gathered here to showcase the development status of our country's motorcycle and parts industry in the post-epidemic era. Diverse motorcycle parts products are available, which can meet the procurement demands of many professional buyers in a comprehensive and multi-level way. Simultaneously this exhibition was held in the pleasant Hangzhou where exhibitors and visitors can taste delicious food and appreciate the beautiful scenery besides participating in the exhibition, which greatly enhanced interests to this exhibition tour.

Although the entry of foreign buyers is still restricted, in order to ensure the effectiveness of the exhibition, the organizing committee had spared no efforts to contact associations and foreign trade buyers in the early stage, striving to invite more professional buyers to participate in. What's more, in mid-March, the organizing committee visited several motorcycle parts markets in Chongqing, Chengdu, Guangzhou and other places, which laid a solid audience foundation for this Hangzhou exhibition. After preliminary preparations, satisfactory results have been achieved in this exhibition, attracting large number of purchasers to visit the exhibition on the first day.
In addition, although it has turned into a normal issue to carry out epidemic prevention and participants must enter the venue with real name, the efficient and concise method to participate in the exhibition can still be one of the highlights of this exhibition. Visitors can obtain certificates through the pre-registration system. These measures which will improve quality and efficiency not only provide guarantee for the safety of the exhibition, but also effectively promote the information digitization progress of the exhibition.

Meanwhile, exhibitors can reserve booth of the 82nd China Motorcycle Parts Fair, which is convenient for exhibitors to view floorplan and increase communication opportunities between the organizing committee and enterprises. After going through the hardship in the past year, it is imperative for some enterprises engaged in motorcycle parts to expand international market. Guangzhou, a well-known city for import and export, is highly favored by a majority of companies. Both exhibitors and visitors are calling to pay attention to the sales progress, which earned great popularity for the Guangzhou exhibition.

As a leading and authoritative platform for the motorcycle parts industry, the China Motorcycle Parts Fair is an important channel for companies to release new products and new technologies and promote product and brand. In the post-epidemic era, the organizing committee will closely contact customers, firmly grasp the new opportunities in the market, accelerate development of high quality, and spare no efforts to facilitate resource exchange and business cooperation between enterprises.

The 82nd (autumn 2021) China Motorcycle Parts Fair will be held from 10th November to 12th November 2021. Motorcycle industry in Guangdong Province has better development environment with broader market foundation and huge development potential. As a capital city of Guangdong Province, Guangzhou is a popular city to hold various exhibitions based on its spectacular location, developed exhibition resources and profound industry development. We warmly invite industry colleagues to gather in Guangzhou Poly World Trade Center Expo and look forward to a new grand journey together!