The 78th (Autumn,2019) China Motorcycle Parts Fair
Editor: Updated date:2019-11-14 15:08:00 Source: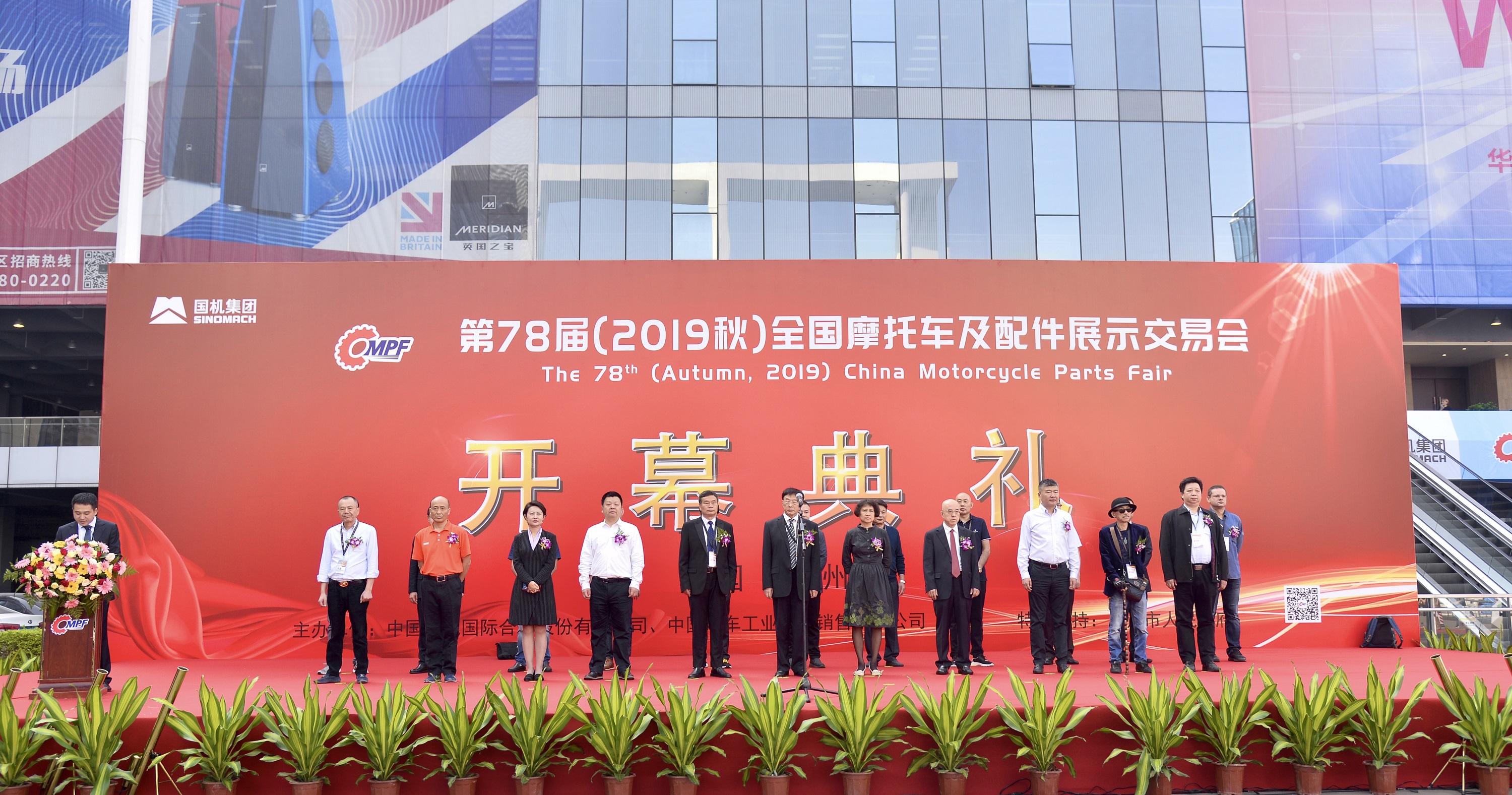 Hosted by China National Automotive Industry Parts Sales Co., Ltd.(CAPS), the 78th China Motorcycle Parts Fair was held from November 13th to 15th ,2019 at Guangzhou poly world trade center expo. Mr.Wang Duyang,president of China National Automotive Industry Parts Sales Co., Ltd., attended the opening ceremony and delivered speeches. Other relevant leaders and some representatives of the motorcycle industry were also invited to attend the ceremony.

Founded in 1981,China Motorcycle Parts Fair (CMPF) has a history of 39 years and is held twice a year in spring and autumn. Adhering to the concept of "innovation, development, and win-win", the organizing committee has visited many similar exhibitions at home and abroad for study and promotion. Based on the industry status, the organizer has set up a long-term goal and thrive to achieve it step by step. We are contributed to inviting more and more international buyers through international industry associations and other organizations and strengthen contact with overseas partners of motorcycle industry. With more and more efforts put into the exhibition, we are sure that the exhibiton is becoming increasingly famous all over the world. After years of accumulation,the cmpf has gradually developed into a world-renowned professional exhibition, which is deeply trusted and favored by domestic and foreign buyers. We believe that whether you are a dealer or a discerning consumer, you can take advantage of the numerous exhibits to get the products you need.

The exhibition covers an area of more than 50,000㎡with four halls of large scale(Hall 1,Hall 2,Hall 3,Hall 4) occupied.There are over 1000 exhibitors and nearly 2000 booths in total. Lots of leading enterprises come to the exhibition and exhibits of great variety are displayed on this fair. As we can see, the exhibits not only include a great many kinds of motorcycle parts,but also many relevant products such as tyre, lubricants and so on. Depending on outstanding brand, professional service and constant innovation, the fair lasting 3 days has attracted more than 50,000 visitors coming to the fair to visit, conversation and purchase products.

With strict policy on motorcycle published in many cities, the cmpf positively leads exhibitors to expand the international market and broaden the distribution channels of products. In order to attract more international buyers to visit the fair, we take many marketing campaigns to promote the fair through industry media worldwide and business associations. In addition, it is the geographical and foreign trade advantages of Guangzhou that make us finally decide that the fair of autumn will always be held in Guangzhou in the future.

In order to enhance the sentiment and friendship between the companies and their clients, we as usual held a welcome party at 18:00 on the first day of the exhibition. We invited some representatives of enterprises and the domestic and overseas purchasing groups who are the long-term supporters to our exhibition.With the harmonious atmosphere,the party provided all the guests a platform which facilitated communication and mutual development between the exhibitors at present.Finally the party ended with a full success.

The 79th China Motorcycle Parts Fair will be held at the Hangzhou International Expo Center from April 26th to 28th, 2020.As we all know, the motorcycle parts industry of Jiangsu and Zhejiang province is famous for updating products quickly and gaining market share rapidly. Relying on numerous motorcycle and accessory companies and local convenient supporting systems, it has formed a unique product development model and excellent business environment. We are looking forward to meeting you in Hangzhou next spring and sharing the grand exhibition!

Showing the development status of China's motorcycle and parts industry in the new era, China Motorcycle Parts Fair is of great significance to research the development trend of the industry. As a bridge between enterprises and customers, CMPF is a platform for enterprises to display latest products and advanced technology, and a powerful lever for enterprises to get more businesses. Therefore we will stick to our initial intention and always strive to create a high-quality and international brand exhibition and try our best to live up to the expectation of our clients. We will always be dedicated to accelerate the growth of the motorcycle company and making contributions to the development of China's entity economy!